Mexico Real Estate Academy
Your Simple Guide To Investing In Mexico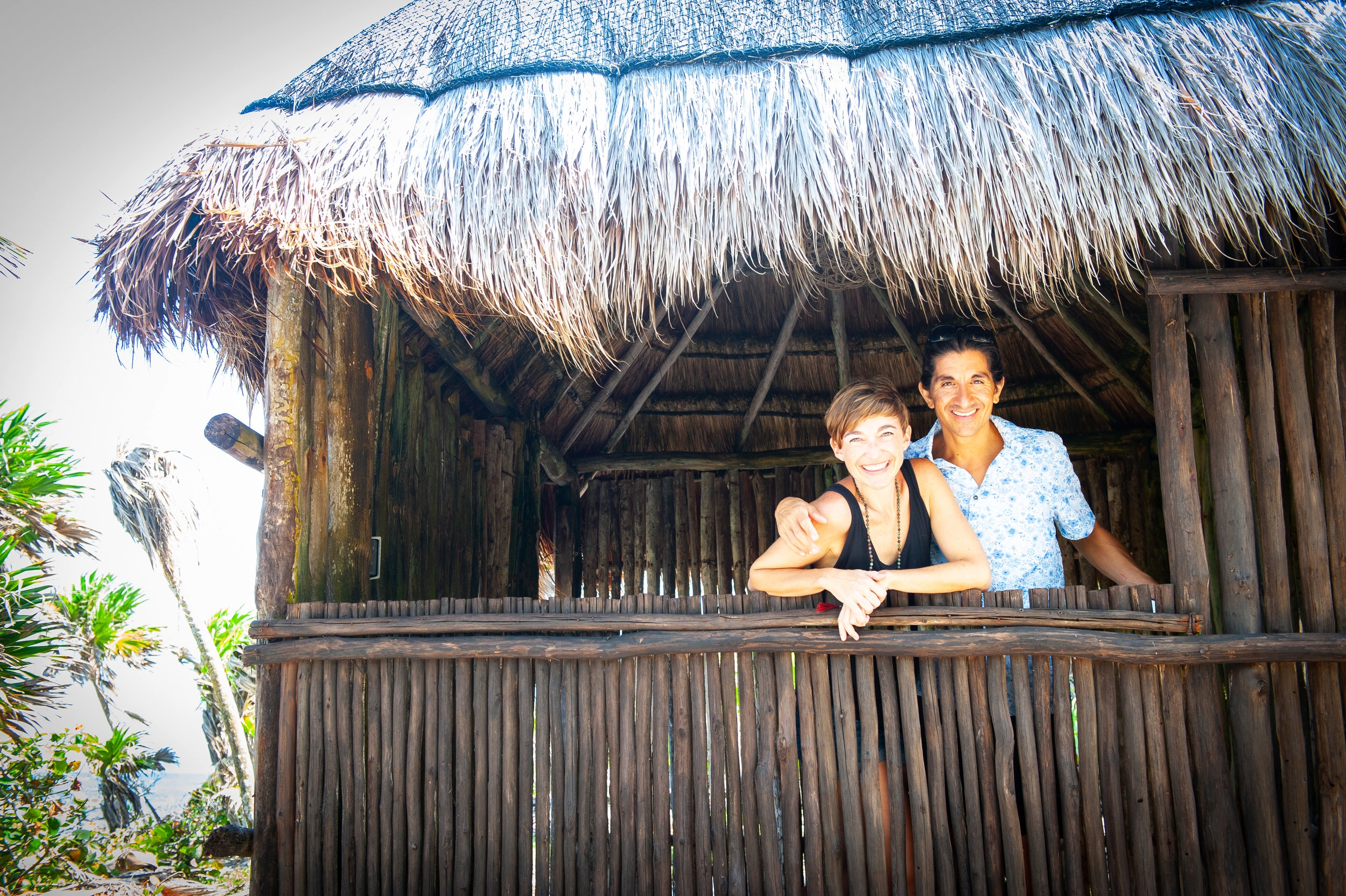 Yup! That was totally us you saw on…
It's a great time to invest in real estate in Mexico!
All it really takes is understanding the market and having the right folks on your team.

But, just like everything else in Mexico, that isn't easy when everyone you talk to is giving you a different story and it's hard to know who to trust!
You're used to the way things work in your home country where you can simply hire a realtor, look at few places, sign the papers and BOOM- you're an owner! You appreciate when people show up on time to meetings, do the work you're paying them to do and follow the laws. Is that so much to ask?
But you also love the laid back vacation vibes of Mexico…
just not so much when it comes to making a big investment like buying real estate.
You talk to a real estate agent who speaks English but you're overwhelmed with all the information because there doesn't seem to be a straight answer to any of your questions.

You look over a few proposals from developers but aren't sure if you can really trust them because the ROI they're promising seems too good to be true.

You've been thinking about making this investment for years but you worry whether this is the right time or if it's really safe because you don't know anyone who has actually made a similar investment.

You visit Mexico and stay in a great, new condo that makes you want one of your own, but you're scared to invest because you've heard so many horror stories about other people getting scammed.

You make the leap and invest, but you're super stressed because things aren't going as planned, you have surprise expenses and you don't know how to fix this.
You know that there is a lot of opportunity in Mexico's real estate market.
You KNOW you can get a lot more for your money in Mexico than back home.

YOU KNOW YOU'RE READY TO TAKE THIS INVESTMENT SERIOUSLY AND DO IT RIGHT.
I understand exactly what you're feeling
(all too well) because that's exactly what Frank and I experienced when we purchased our condo in Tulum a few years ago.
But we finally stopped worrying, got very serious about understanding the real estate market, and now we have a beautiful condo in paradise that continues to increase in value while we enjoy margaritas on the beach.
Just imagine…
You sign the papers on an amazing investment property and feel confident about your purchase because all of your questions have been answered, you know this is a great deal.

You splurge on a couple luxury items for your new property because you know exactly what your budget is after correctly calculating your ROI and mapping your actual expenses.

Your friends start asking you for advice on how they can invest in Mexico too because your property is amazing and you are enjoying all those Mexico vacation vibes.

Your dream of becoming a property owner in Mexico has come true, you love your place and you've got a solid investment because you knew exactly what to do each step of the process.

You have the deed to your property, all your paperwork is properly filed, you are on budget with expenses, you've got a guy to handle any small things that come up and you're on the beach sipping margaritas because you've got a strong team in place and things are all set up right.
"I love to kitesurf and had always wanted to buy a place in Tulum but the idea of actually handing over that much money to strangers in Mexico had me literally sweating bullets. But - I followed Ashley & Frank's system, did things exactly as they told me and now I've got an awesome condo in Tulum! I easily saved $5,000 following some of their super simple tips and now when I'm not there, I rent the place out and make some money that way too!"
- Michele
I know that, even if you're absolutely ready to invest in real estate in Mexico, you're probably still having some doubts. I definitely thought I was crazy many times while going through the buying process… but it doesn't have to be that way!
I can help you understand exactly how things work here in Mexico and guide you step-by-step through making a strong investment.
Mexico Real Estate Academy
Your Simple Guide To Investing In Mexico
An online course that will help you simplify the process of buying real estate in Mexico and become the owner of an amazing investment property in paradise.
Stop worrying about getting scammed and grab a margarita because Frank and I have got you covered!
Mexico Real Estate Academy is all about investing wisely and setting everything up right so you can relax and enjoy your property and even get a (realistic) ROI.
I know you're thinking this sounds great, BUT…
We're still in Mexico, and scams are a very real thing.
Plus, you've already learned that, just because someone says they know what they're talking about, doesn't mean they actually do!
Well, Frank and I have been helping people invest in real estate in Mexico for a few years now and here's what a few of them have to say…
"Before I found Frank and Ashley I actually made a HUGE mistake in the process of buying my condo that cost me a $15,000 bill. (yes, that's 15k U.S. dollars!) Luckily I found them soon after and they were able to help me avoid making any more mistakes. I would have paid 20 times what they're charging for this course because it would have saved me $15,000 in the end!"
- Rebecca
"Without the Mexico Real Estate Academy, I wouldn't have even known where to start in planning our move to Mexico! But now I feel comfortable with this daunting process and we're one step closer to buying our home in Mexico!
- Roxy
"Ashley's help in the Mexico Real Estate Academy is like getting advice from a good friend that has "been there and done that" and is dishing on EVERYTHING you need to know to avoid making some seriously expensive mistakes! We haven't even closed on our place yet but Ashley's advice has already saved us over $5,000!"
- Joe
Hi, I'm Ashley, a former corporate executive trapped in the rat race in San Francisco who bought a home in Mexico in 2016 and is now living a life full of poolside margaritas with my hubby Frank and our puppy Miko.
We took a much needed vacation to Tulum one winter and fell in love with Mexico. We realized our money could get us a lot more here than back home, the ROI looked great, and our lifestyle could really use some of those laid back beach vibes. But things got stressful as soon as we started looking for a place to buy. None of the realtors we talked to actually owned property themselves and it was really hard to find good information on the buying process for foreigners like us. Our first Recon Trip was such a disaster I literally cried and was ready to give up completely.
That's when we decided to do what we do best- get super organized and figure it out for ourselves. We even went to real estate school so we could really understand what the heck was going on. We purchased our condo in Tulum and friends started asking us to help them fix expensive mistakes they had made in their own buying process. We became the experts so you could have a step-by-step process to making a great investment in Mexico and even enjoy yourself along the way!
Here's what you'll get when you join
THE MEXICO REAL ESTATE ACADEMY:
5 Modules with bite sized audio lessons that walk you through the exact process of investing in real estate in Mexico step-by-step so you always know what to do and how to do it the right way. ($1,000 Value)
The Ultimate Mexico Buyer's Guide is your quick reference guide and checklist so you can easily stay on track as you move through each step of the real estate purchasing process. ($200 Value)

The Scam Prevention Checklist takes everything you learn in the scam module and puts it into a simple checklist so you can easily remember exactly what you're supposed to do (and not do) to keep your investment safe. ($100 Value)

The ROI Worksheet with instructions on how to accurately calculate and project your real expected return on investment so you'll know you're definitely making a good investment. ($200 Value)

The Inspection Checklist you'll use when doing the final walkthrough of your property so you can make sure everything is done right, at the quality you paid for. ($200 Value)

The Rental Contract Template with exact instructions on customizing it with your lawyer that you can use as a tenant (renting before buying or while building) or a landlord (renting out your new investment property) so you can be well covered in the rental market too. ($100 Value)

The Rental Income Projections Worksheet to track nightly rates and occupancy percentages of similar properties in the area so you can accurately plan your expected income. ($200 Value)
TOTAL VALUE: $2,000
YOUR INVESTMENT: ONLY $597
Join us now for 1 payment of $597 or 3 payments of $237
BONUS #1: Monthly LIVE Q&A Calls (PRICELESS!)
Live Q&A Group Calls with me and Frank every month so you'll have support plus expert answers to all your questions every step of the way.
Join us on ZOOM once a month for a private, Academy members only, Happy Hour video conference call where will chat with you to answer all of your specific questions and you can get additional insight as we answer other member's questions too.

If you can't make the call live, you'll be able to pre-submit your questions for us to answer during the video call that you can watch later at your convenience.

As a member of Mexico Real Estate Academy, you get lifetime access to these monthly calls for as long as we are offering them. You can jump in the calls as soon as you join or wait until you have specific questions for us.
BONUS #2: Your Perfect Reconnaissance (Recon) Trip ($500 Value)
This module includes 4 video lessons and a workbook packed with everything you need to take the perfect recon trip (whether you're moving full time or part time, buying your dream home or purchasing an investment property) so you can have a great time and come home with what you need to make the right decisions .
We'll walk through:
Why a Recon Trip is so important (you definitely need one and it's not the same as a vacation)

When you should take a Recon Trip

How to plan your Recon Trip to make it super effective, make progress on your investment and experience the area like a resident

What to do and NOT do during your Recon Trip

Processing what you learn during your Recon Trip to ultimately make the right decisions when it comes to investing in Mexico

PLUS The Perfect Recon Trip Workbook to help you each step of the way, including:

The Recon Trip Planning Workbook

The Recon Trip Checklist

The Relocation Budgeting Spreadsheet with BONUS line items for investment property buyers

The Recon Trip Processing Workbook

TOTAL VALUE: $500 Bonus + $2,000 = $2,500+ Priceless Personalized Expert Advice!
YOUR INVESTMENT: ONLY $597
Join us now for 1 payment of $597 or 3 payments of $237
Here's what happens once you click that button to join us in the program:
You'll be taken to a page with two payment options: either $597 pay-in-full or $237 per month for 3 months!

You'll choose to pay with credit card or PayPal.

Right after you pay, you'll receive an email receipt.

About 15 minutes later, you'll receive another email with all of the information for where to go, how to log in and get started. And that is it - from there you have immediate access to the entire program! Wahoo!

Find your dream home, purchase without a hitch (because you've learned exactly how to protect yourself along the way!) and start perfecting that margarita recipe!
Frequently Asked Questions
+ I'm planning to buy a place in Mexico sometime in the next couple of years. When should I invest in the Mexico Real Estate Academy?
NOW! Even though your investment is still a couple years out, you're actually in a very important stage of the process and there is a lot you can and should be doing right now. The Recon Trip Bonus is everything for you right now and it's a great time to start building your team so you're all set when you're ready to buy. (We teach you how to do that in the course, don't worry!)
+ I already own property in Mexico but I'm still trying to get a few things under control on the backend. Is the Academy right for me?
Even if the only thing left for you to do is pick up your deed, the Mexico Real Estate Academy is right for you and totally worth the money to protect your investment. Frank and I have a lot of clients who find us years after purchasing their property and save tens of thousands by tying up loose ends, getting ahead of paperwork they weren't even aware they needed, and handling all the small things before they become big things.
+ It seems like everyday there is another unexpected cost that pops up. Can I really afford to spend more money on this course?
The cost of the Mexico Real Estate Academy is less than one Recon Trip. And those unexpected costs are exactly why you should invest in this course. I will help you set your expectations, plan out all of your expenses, and follow a step-by-step system so there are no more surprises. What you can't afford is to make costly mistakes that put your investment at risk.
+ I love Mexico, but I'm not sure if buying property there is really right for me or not. What if I join the Academy and decide I don't want to invest?
One of my goals with the Mexico Real Estate Academy is to help you make the right decision for you, make it quickly, and make it before you commit to an investment. The lessons inside the Academy are specific to buying property in Mexico, but you can certainly use the same worksheets, spreadsheets and systems anywhere you decide to purchase property so you'll get lots of value even if the biggest savings comes from making the decision not to invest in Mexico.
+ Mexico is fun to visit, but I'm not planning to live there. Is the Mexico Real Estate Academy right for me?
Yep! Whether you're moving full-time, part-time or looking strictly for an income property, the Mexico Real Estate Academy has you covered. Frank and I have worked with clients in pretty much every scenario (purchasing land, new construction, existing home, remodeling, etc.) and have years of investment property management experience in Mexico. I put all of our expertise into the Academy so you can make a solid investment whatever that looks like for you.
More than anything, I really want you to feel good about your investment.
There is a lot of opportunity for you in Mexico and I can wholeheartedly tell you that buying our home here has been the greatest thing I have ever done.
I'd love to help you confidently navigate the process of buying real estate in Mexico step-by-step, making the best decisions for you.
Let's do this together!
"Before taking the Mexico Real Estate Academy, getting scammed was my biggest fear. But Ashley gives you so many examples of scams and simple actions to take to avoid getting scammed which were all very helpful. In the end, we didn't have a single problem when we bought our place! We know it's because we followed Ashley's advice to a T!"
- Steve
"Ashley's positive attitude was great to be around. She makes people feel like they are not alone, that she felt the EXACT same way and made the change. She is such an informative resource RIGHT HERE! She's lived it. It's real and it's honest."
- Jen
"The ROI module should be mandatory for anyone considering investing in property in Mexico with plans to rent it out! Ashley breaks down the process for calculating your own ROI into an easy to understand concept AND she gives you worksheets for you to be able to run calculations on your own! This is PRICELESS!!!

Before this program, I believed all of the ROI figures that developers were telling me but now I know how to do the calculations on my own to know the truth (so I can run quickly away from any sleazy developers over-promising). "
- Sarah
"Wow! Right away there's so much information that I hadn't even considered before! Even after the very first module, I feel soooo much more prepared and confident as we start the process of buying property in Mexico! Thank you Ashley!"
- Deb